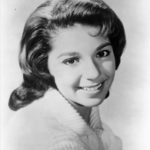 Born: 1946
Chicago, Illinois
Dodie Stevens was born Geraldine Anne Pasquale in Chicago in 1946. She recalls elder family members telling her that she could sing before she could talk, and she began taking music lessons at the age of 5.  Her professional career started at an equally precocious age: at 7 or 8, she began auditioning in the Los Angeles area for television shows, making her first national appearances on the Frankie Laine Show and Art Linkletter's House Party. Her break came, however, when she appeared on a local show at the age of 11 and was seen by an executive from Crystalette Records.
That led to her first record for Crystalette, "Pink Shoelaces" backed with "Coming of Age." "Pink Shoelaces," a novelty song, became a #1 hit in 1959. As a result, Stevens was catapulted to fame just around the time she turned thirteen. Following the success of "Pink Shoelaces," record labels struggled to figure out exactly what to do with her mature-sounding voice. Her 1960 album Over the Rainbow on Dot Records, for example, was largely made up of songs from 1940s movie-musicals.
Stevens found a niche with the teen idol set. She drew inspiration from the girl groups that were proliferating in the late 1950s and early 1960s and cut a few more singles that were more clearly marketed to a teenage audience, including "Yes, I'm Lonesome Tonight" (an answer to Elvis's "Are You Lonesome Tonight?") backed with "Too Young" in 1960. She also appeared on Dick Clark's American Bandstand. Stevens also did film work. She appeared in the teen film Hound-Dog Man (1959), co-starring with Fabian; and along with Frankie Avalon, she voiced a character in the animated Alakazam The Great (1960).
Stevens—who was starting to want a more "normal" lifestyle—took a break from performing when she married at the age of seventeen and then while she raised a daughter. She got back into show business in her twenties, working under the name Geri or Geraldine Stevens. She went on the road (sometimes with her daughter) and also took gigs as a backing vocalist. Stevens has also been writing her own songs since the 1980s.
She is still an active performer today, and is currently working on a live music project called AFFIRMASONG that features positive and inspirational songs.
"Steady Eddy" / "Mairzy Doats." Dot 16002 (1959).
"Miss Lonely Hearts" / "Poor Butterfly." Dot 15975 (1959).  
"Pink Shoelaces" / "Coming of Age." Crystalette CRY-724X (1959). 
"Yes, I'm Lonesome Tonight" / "Too Young." London American HLD-9280 (1960).
"Best Bets," Variety, 13 May 1959.
"Music: On the Upbeat," Variety, 9 September 1959.
Hedda Hopper, "Dodie Stevens, the 'Pink Shoelaces' Girl, Learns the Hard Way That You Can't Be a Star and an Ordinary Teen-ager at the Same Time," Chicago Tribune, 6 May 1962.
"Dodie Stevens," NAMM.org, March 17, 2011, https://www.namm.org/library/oral-history/dodie-stevens.
Interview with the author, 28 October 2018.
Dodie Stevens, "Bios," https://web.archive.org/web/20190203161301/http://dodiestevens.com/.