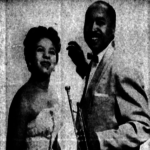 Lillie Bryant, later Bryant Howard, was half of the R&B duo Billie and Lillie (with with Billie Ford, sometimes spelled Billy). Bryant is from Newburgh, New York. She started singing in church, and then at the age of 14, appeared at one of the Apollo Theater's amateur nights where she won second prize for performing Ruth Brown's "Mama, He Treats Your Daughter Mean."
As a teenager, she performed at various clubs in New York City. A friend introduced her to Billie Ford—who was fifteen years older—who was performing with his band the Thunderbirds. When Byrant went to audition for Ford, it turned out he was in turn auditioning for producers Bob Crewe and Frank Slay. The two producers decided to cast Ford and Byrant as a duo.
Billie and Lillie recorded a series of singles for Swan Records in 1957 and 1958. "La Dee Dah" (1957) and "Lucky Ladybug" (1958) were particular hits and charted nationally. The duo was also part of Alan Freed's stage shows, including a six-week tour with Chuck Berry and Frankie Lymon, and they appeared on American Bandstand.
Bryant began releasing solo records. When the duo split in 1959, and Bryant struck out on her own, cutting a few solo records. Bryant remains an active musician today, singing jazz in her hometown of Newburgh and performing at church, and she has been politically active in the Hudson Valley area.
Billie and Lillie, "La Dee Dah" / "The Monster." Swan 4002 (1957).
Billie and Lillie, "Happiness" / "Creepin', Crawlin', Cryin'." Swan 4005 (1958).
Billie and Lillie, "The Greasy Spoon" / "Hangin' on to You." Swan 4011 (1958).
Billie and Lillie, "Lucky Ladybug" / "I Promise You." Swan 4020 (1958).