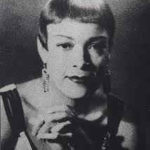 Kansas City, Missouri, native Priscilla Bowman first rose to national prominence as vocalist for jazz musician Jay McShann and his orchestra. Together, they had a hit with "Hands Off," which rose to the top of Billboard's R&B charts in 1955. Bowman has co-writing credit on the song.
Bowman toured and performed both with McShann and on her own. The Chicago Defender noted in 1957 that "attendance records were shattered last week at the K&K Regal Theater where Al Benson, Chicago's disc jockey, staged a star-studded show. With such top names in Rock n' Roll and Rhythm and Blues as Screaming [sic] Jay Hawkins, Brooks C Brown, Gene & Eunice, Priscilla Bowman, Arthur Presoak, The Spaniels, The Eldorados, 'Big' Joe Turner, The Three Rhythm Kings, Tab Smith and his Orchestra, the show attracted a record 31,750." In 1959, she supported a bill in Chicago headlined by Fats Domino and Big Maybelle.
The rest of Bowman's musical career was focused on live performance in Kansas City's clubs. She died of cancer in 1988.
Jay McShann's Orchestra, Vocalist Priscilla Bowman. "Hands Off" / "Another Night." Vee Jay VJ 155 (1955)
Priscilla Bowman And Jay McShann. "Don't Need Your Lovin'" / "Hootie Blues." Vee Jay VJ 213 (1956).
Priscilla Bowman. "Yes, I'm Glad" / A Spare Man. Falcon 1004 (1957).
Priscilla Bowman. "Sugar Daddy" / "Don't You Come In Here." Falcon1008 (1958).
Priscilla Bowman. "I Ain't Givin' Up Nothin'" / "A Rockin' Good Way." Abner 1018 (1958).
"Benson Sets Gate Record For Regal" Daily Defender, 5 March 1957.
"Fats Domino Heads Star Bill To Tivoli Friday," Daily Defender, 20 April, 1959.
"Obituaries," Daily News (New York), 26 July 1988.
Priscilla Bowman Collection, University of Missouri-Kansas City, https://dl.mospace.umsystem.edu/umkc/islandora/object/umkc%3Abowman (accessed 1 November 2018).