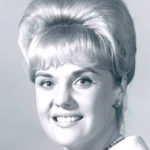 Born: August 18, 1939
Oklahoma City, OK
Died: February 10, 2009
Oceanside, CA
Molly Bee was born Molly Gene Beachboard in Oklahoma City. She was raised in Tucson, Arizona, before her family moved to Los Angeles to support her career.
From a very young age, Bee garnered a reputation for a charismatic stage persona. When Tucson radio personality Rex Allen saw her at age ten performing in a school play, he immediately engaged her to sing on his program. A year later, Bee's family relocated to Hollywood, where she quickly became an accomplished television personality and actress. Her first regular gig in California was on Cliffie Stone's Hometown Jamboree. Soon after, she began appearing on the children's television variety program hosted by Pinky Lee. In 1953, she briefly tried her own 30-minute variety show on KLAC-TV, and then at fifteen, she joined the cast of Tennessee Ernie Ford's show. She guest-starred on countless other programs, made television commercials, and was also cast in films.
Bee began recording for Capitol records at age thirteen, and the label initially marketed her as a country singer. Her debut single, "It's the Kids Who Pay," was an answer song to "It Wasn't God Who Made Honky Tonk Angels" told from a young daughter's point of view. Bee's biggest early hit, however, was her rendition "I Saw Mommy Kissing Santa Claus" (1952). She recorded both novelty songs and adult-oriented country, showing off her remarkably mature-sounding voice.
In 1954, Capitol Records shifted her from their folk and country department to their pop department. She was rarely billed explicitly as a rock and roll artist during the fifties, but given her youth, the labels she worked with clearly recognized her ability to appeal to that audience and gave her crossover material. "Sweet Shoppe Sweetheart" (Dot, 1956), for example, is clearly modeled on other rock and roll hits from that time. Her ability to sing both up-tempo rockers like "Sweet Shoppe Sweetheart" as well as sentimental country ballads earned her comparisons to Elvis Presley.
Bee packed venues including state fair amphitheaters and rodeo arenas nationwide into the 1960s, and she did a USO tour with Bob Hope. (She later confessed to a reporter that she was asked to co-star in a Presley film, but Hope discouraged her from breaking her commitment to him.) After some time away from show business in the late sixties and early seventies, Bee revived her career in the later half of the 1970s and resumed touring. In the 1990s, she ran a small club in Oceanside, California. She died of complications of a stroke in 2009.
"Tennessee Tango" / "The Kids Who Pay (The Child's Side Of Life)." Capitol F2258 (1952).
"Saw Mommy Kissing Santa Claus" / "Willy Claus (Little Son Of Santa Claus)." Capitol F2285 (1952).
"From The Wrong Side Of Town" / "Sweet Shoppe Sweetheart." Dot 45-15453 (1956).
"Since I Met You Baby" / "I'll Be Waiting For You." Dot 45-15517 (1956).
"Don't Look Back" / "Please Don't Talk About Me When I'm Gone." Capitol F3968 (1958).
"Country & Western," Billboard, 15 November 1952.
"Television Chatter: Moppet Emcee," Variety, 21 October 1953, 42.
Lydia Lane, "Hollywood Beauty: Molly Bee Tells How She Got Start on TV," Oakland Tribune, 30 March 1954.
Douglas Watt, "Let's Look at the Records," Daily News (New York), 11 April 1954.
"At 15 Molly Bee Is a Star," Quad-City Times (Iowa), 16 January 1955.
George Laine, "Molly Bee Grows Up, Wants to Sing Love Songs, Own a T-Bird," Star-News (Pasadena, CA), 29 November 1956.
"Molly Bee Started Her Career Early," Albuquerque Journal, 11 September 1966.
Ed Mauel, "Molly Bee, Pony Tails, and More," San Bernardino County Sun, 7 July 1985.
"Molly Bee, 69, Country Music Hit Singer, Is Dead," New York Times, 12 February 2009 (https://www.nytimes.com/2009/02/12/arts/music/12bee.html).
Valerie J. Nelson, "Country singer Molly Bee dies at 69," Los Angeles Times, 11 February 2009.