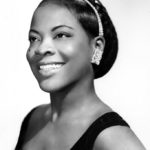 Born: January 12, 1928
Died: November 17, 2006
LaVern Baker was born in Chicago in 1929. Sources vary as to what her name was at birth: Chip Deffaa reports that Delores Williams, frequently given in other secondary sources as her birth name, was actually a name from an early marriage. Other sources indicate that she was born Delores Baker.
She grew up loving music. Baker's aunt was blues singer Merline Johnson, who was a great influence on Baker as a young girl. "I just wanted to be like her," Baker told Chip Deffaa, "I would sit there in the studio and watch her record." As a child, Baker performed gospel music, but she was compelled by a strong desire to perform secular music in the Chicago club scene. In 1946, finally old enough to work in liquor-serving establishments, seventeen-year-old Baker was given her first opportunity at Club DeLisa. From there, she appeared at a variety of venues and also released singles for the Okeh, National, and King labels under different names, primarily "Bea Baker" and "Little Miss Sharecropper." (The latter name was part of a whole act in which Baker dressed in rags and sang blues numbers.)
Baker encountered Al Green while playing a gig at Detroit's famous Flame Show Bar, and he became her manager and helped her work toward national visibility. In 1952 she phased out the "Little Miss Sharecropper" act and began performing exclusively under the name LaVern Baker. She signed with Atlantic Records in 1953 and soon had massive hits with "Tweedle Dee" (1954) and "Jim Dandy" (1956). She recorded with Atlantic until 1965 when she moved to Brunswick for a short time. All told, Baker had at least twenty charting singles on R&B and/or pop charts.
Baker's sound helped to define "rock and roll" in the fifties. From early on, critics noted that her records represented a shift in R&B toward racous dance music. In 1954, the Chicago Defender called her one of the "top delineators of the rock and roll school"—one of the first times "rock and roll" appeared in the publication as a description of musical style. She was also one of the first women to be promoted by Alan Freed as part of his R&B and rock and roll programming: she could be heard on his radio shows, appeared in his earliest stage shows at the Paramount theater, and starred in his 1956 movie Rock, Rock, Rock!
Baker was also one of the most prominent activists against the practice of "covering," where white pop singers—often backed with the resources of a major label—would re-record R&B hits. In addition to seeking legal protections, she famously issued an open letter to Georgia Gibbs in 1957 reading: "Dear Georgia, lnasmuch as I'll be flying over quite a stretch of blue water on my forthcoming Australian tour, l am naturally concerned about making the round trip safely and soundly. My thoughts naturally turn to you at this time, and I am enclosing an insurance policy on my life in the amount of $125,000. This should be at least partial compensation for you if I should be killed or injured, and thereby deprive you of the opportunity to copy my songs and arrangements in the future."
Following a health scare in 1969, Baker moved to the Philippines, where she remained for twenty years. There, she ran a club under contract to the U.S. government for entertaining troops stationed in Southeast Asia. "I got to book the musical talent, serve as emcee and sing on the weekends with a really talented band," Baker told a reporter from the Austin American-Statesman upon her return. "It wasn't the bright lights of Broadway, although there really is a thriving and very professional music scene in the Philippines, but there was no doubt who was in charge. I don't mind admitting I liked that situation."
Baker returned to the United States in the early 1990s and resumed her old career. She toured widely and recorded her first studio album in two decades, Woke Up This Mornin'. She was inducted into the Rock & Roll Hall of Fame in 1991. Baker struggled with complications from diabetes in her later years and died in 1997. She is remembered not only for her influence as a musician, but for her professionalism and service as a mentor to younger women coming up behind her in the industry. As Renée Minus White of the Chantels put it: "LaVern Baker looked out for us."
Little Miss Sharecropper, "I've Tried" / "How Long." National 9151 (1951).
Little Miss Sharecropper, "I Want To Rock" / "Take Out Some Time." National 9153 (1951).
"Soul On Fire" / "How Can You Leave A Man Like This." Atlantic 1004 (1953).
"I Can't Hold Out Any Longer" / "I'm Living My Life For You." Atlantic 1030 (1954).
"Tweedle Dee" / "Tomorrow Night." Atlantic 1047 (1954).
"Bop-Ting-A-Ling" / "That's All I Need." Atlantic 1057 (1955).
"Play It Fair" / "Lucky Old Sun." Atlantic 1075 (1955).
"Get Up Get Up (You Sleepy Head)" / "Happiness Forever." Atlantic 1087 (1956).
"Fee Fee Fi Fo Fum" / "I'll Do The Same For You." Atlantic 1093 (1956).
"I Can't Love You Enough" / "Still." Atlantic 1104 (1956).
"Jim Dandy" / "Tra La La." Atlantic 1116 (1956).
"Jim Dandy Got Married" / "The Game Of Love." Atlantic 1136 (1957).
"Humpty Dumpty Heart" / "Love Me Right." Atlantic 1150 (1957).
"Louis Blues" / "Miracles." Atlantic 1163 (1957).
"Substitute" / "Learning To Love." Atlantic 1176 (1958).
"Harbor Lights" / "Whipper Snapper." Atlantic 1189 (1958).
"It's So Fine" / "Why Baby Why." Atlantic 2001 (1958).
"I Cried A Tear" / "Dix-A-Billy." Atlantic 2007 (1959).
"I Waited Too Long" / "You're Teasing Me." Atlantic 2021 (1959).
"So High, So Low" / "If You Love Me." Atlantic 2033 (1959).
"Tiny Tim" / "For Love Of You." Atlantic 2041 (1959).
"Shake A Hand" / "Manana." Atlantic 2048 (1960).
"Roy Hamilton To Head Allstar 'Package' Into The Chicago Trianon," Chicago Defender, 17 July 1954.
"LaVern Baker Rock 'n Rolls 'Em," Cleveland Call and Post, 21 July 1956.
"LaVerne Baker, Born On Holiday Keeps Celebrating Record-Wise," Chicago Defender, 6 July 1957.
"Zig and Zag with Joe Ziggy Johnson," Chicago Defender, 12 January 1957.
Michael Point, "Return from Musical Exile: LaVern Baker Touring U.S. after 22 Years," Austin American-Statesman (Texas), 14 May 1992.
Chip Deffaa, Blue Rhythms: Six Lives in Rhythm and Blues (Urbana: University of Illinois Press, 1996).